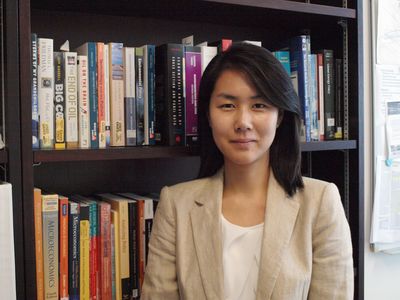 Dr. Jung Eun KIM 金廷恩
Assistant professor of public policy: Dr. Kim's research focuses on sustainable energy transition in both developed and developing economies, which traverses the fields of environmental, science/technology, and international development policy. She is particularly interested in the global innovation system in achieving sustainable goals. Her previous work investigated the channels to transfer sustainable energy technologies to developing countries and studied the effectiveness of those channels for capacity-building at the national scale. Her recent work investigates sustainable energy financing system and how technological system and policy interact to facilitate the sustainable energy transition at the national level. Recently, she is expanding her research projects to investigate capacity-building and sustainable energy transition mechanism at the local scale. She received a Ph.D in Public Administration from the Maxwell School of Syracuse University. She also holds a Master in Environmental Studies from York University, and a B.Sc. in Environmental Engineering from Ewha Womans University.
Awards
Early Career Scheme Grant Research Grants Council of Hong Kong (2016/2017)
Doctoral fellowship, Department of Public Administration, Syracuse University, 2011-2012
Maxwell Fellowship, Syracuse University 2009 - 2011
Publications
Papers
"Industry or environment: What do they want to protect in Free Trade Agreement?" (with Annie Young Song). Paper for Pacific International Politics Conference (2019).
"Don't you remember that hot summer? Networked perceptions of climate change in Nepal" (with Norbert Chan and Terry van Guevelt). Paper for Sustainability and Development Conference (2018).
"Changing the Scope of Technology Research in Public Administration in the Era of Digitalization: Evidence from the Field and Opportunities for the Future" (with Eric Welch). Paper for the European Group for Public Administration Conference (2018).
​"Policy leading policy in multilevel environmental governance: China's air quality." Paper for the Association for Public Policy Analysis & Management Annual Fall Conference (2017).
"Building Renewable Energy Infrastructure in Developing countries: Policy impacts on public-private partnership." Paper for the INOGOV Workshop (2016).
"State Renewables Portfolio Standards (RPS) and Renewable Energy Diversification" (with Tian Tang) Paper for the Association for Public Policy Analysis & Management Annual Fall Conference (2014).